Date Published
November 15, 2022
The watchmaking industry has provided all sorts of watch types with functions for specific activities, such as altimeter watches. Basically, they are similar to other tool watches that serve a certain group like dive watches for underwater sports, military watches with rugged appearance, and pilot watches for the aviation industries.
The altimeter function simply allows the wearer to measure the altitude of objects above a fixed level. Sea level is the common reference point used to perform the measurement. This function would be a helpful tool for sports, such as hiking, climbing, and skydiving. As such, you can easily find an altimeter function in watches designed for outdoor activities.
Excited to know more about this interesting feature? Read the rest of the article to discuss what is an altimeter watch and some appealing recommendations.
What is an Altimeter Watch?
An altimeter watch refers to a timepiece with an altitude measurement function. It mostly also comes with a barometer and compass feature, allowing them to be known as the ABC (altimeter, barometer, compass) watch. This complete feature is a great help for someone who loves adventures or outdoor activities, such as hiking.
The watch can give vital information about the surrounding conditions and environments. Indeed, these features are available in smartphones but they're not reliable and durable enough for extreme conditions. Smartphones rely heavily on signals or cellular data. There is a high possibility you lose connection in a rural or remote area.
Therefore, an altimeter watch comes as a handy and reliable tool to accompany adventure. Not only that it gives valuable information but also offers reliable and durable performance. The watches are designed for that occasion and definitely will ensure a great outdoor experience.
Read also: Top 5 Best Watches with A Compass for Your Next Travelling
4 Altimeter Watches for Your Next Adventure
Listed in no particular order, here are four of the top altimeter watches that offer value and dependable performance.
Oris Big Crown ProPilot Altimeter
A rugged-looking altimeter watch, the watch comes in a bulky dimension and two crowns. The first crown at the 2 o'clock position is used to adjust the time-date setting while the other one is to operate the altimeter function. So, how to use an altimeter watch?
Unscrew the watch crown until it gets to position 2 to activate the altimeter measurement. The watch will display the information in the meantime – a yellow indicator for the altimeter and a red indicator for air pressure.
The measurement can reach up to 15,000 feet and you can read the altitude through the outer dial ring. Driven by a modified Sellita SW200 movement, you can safely rely upon this watch.
Citizen Promaster Altichron
Taking a further step, another altimeter watch to rely on comes from the Citizen Promaster Altichron. This watch also comes with an ultra-rugged appearance along with its four protruding crowns at the side of the watch. Various functions are also equipped in the watch with an altimeter, power reserve, compass, and date window.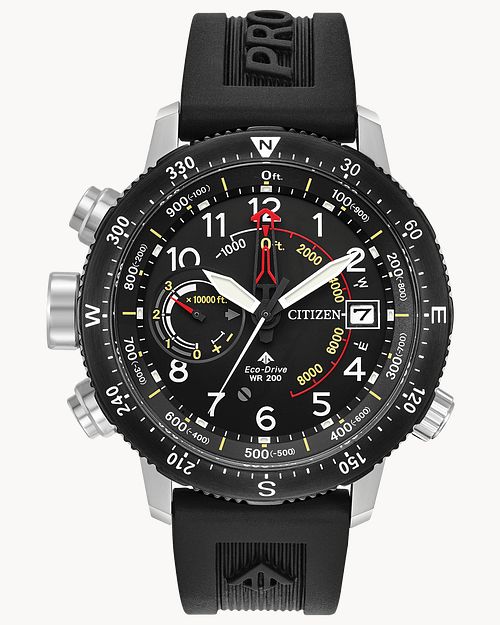 As for the altimeter, Citizen brings the watch to another level that can reach up to 32,000 feet. In addition to that, this timepiece offers great water resistance for up to 1,000. That said, the Promaster Altichron would be a perfect companion for your adventures. 
Read also: 5 Gnomon's Pick of Day-Date Watches: Simple Yet Practical
Favre-Leuba Bivouac 9000
A bulky titanium case that holds impressive elements of the watch, Favre-Leuba introduced the Bivouac 9000 to mark its 280th anniversary. The company highlights the altitude measurement in the watch that can reach up to 9,000 m (29,527 feet). It's actually an upgrade of the previous version which is the first altimeter watch that can measure altitudes up to 3,000m.
As for this edition, the watch exhibits an aneroid barometer to identify the air pressure changing in the surrounding. The central red altimeter hand shows elevation increments in 50-meter increments, with a full rotation of 3,000 meters. When the clock turns three times you will know that you have reached an altitude of 9,000 meters.
Casio PRG650Y-1
Looking for a modern-looking altimeter watch? The one from Casio could be an ideal option to choose. Casio mentioned that the watch offers extreme functionality and brings the altimeter function one step ahead. It features a compass and a pressure sensor to measure altitude as well as temperature.
Looking at the dial, you will notice the presence of both analog and digital time displays – complete with alarm, world timer, stopwatch, and timer functions. Powered by Casio's solar power technology, it reduces the hassle of changing batteries.
Final Thought
The watchmaking industry is a field where innovation is very much pursued. Professional watchmakers keep broadening the scope and functionality of timepieces to offer wider capabilities. Throughout the journey, they discover lots of iconic and interesting watch functions with more practical use, such as the altimeter watch.
As one of the reliable functions in a watch, the altimeter feature allows the wearer to feel at ease when having outdoor activities. The information on altitude helps the wearer to keep track and stay safe from extreme danger. At the same time, they can enjoy the beauty of nature while being fully informed of the surroundings.
You might also like: 9 Best Outdoor Watches for the Bold and Adventurous Soul