Date Published
January 13, 2023
Switzerland is indeed the root of the watchmaking industry. Many Swiss brands have made a lot of reputable and captivating watches. However, other countries like Japan, Germany, and America are also known for their well-made collections. Let's get more detail with watches from America that also shares an outstanding watchmaking heritage.
American-made watches might not be as popular as Swiss-made products to commoners but true watch enthusiasts will know how that country works. Watches from America are known for their ingenuity and dependability. The industry was once abandoned but made a huge comeback – introducing splendid collections to buy.
These days, many American watch brands gain a lot of good reputations, such as Hamilton. In addition to that, American watches cover a plethora of options from the most recognized brands to microbrands with their unique watches. In fact, there is a lot to see and explore about watches from America. So, read along to find out!
What to Expect in Watches from America?
In a simple definition, American-made watches refer to timepieces made in America. In addition to Switzerland, America is also a great country with its watch manufacturers. There are known brands, such as Hamilton, Elgin, and Waltham. They are known for exceptional watches, especially in the American market.
However, certain factors lead to a rapid decline for some brands in line with the increasing competition with Swiss brands and the quartz crisis. The condition led some brands to move their production to Switzerland, such as Hamilton, or left the business entirely.
But 40 years later, the industry makes a comeback with certain upgrades that enchant many watch enthusiasts. It carries the American heritage and centuries-old tradition when manufacturing was in glory. In addition to that, when it comes to American watchmaking, you can always expect durability.
Read also: German vs. Swiss Watches: Which One is the Best for You?
American-Made Watches that Should be on Your Radar
When it comes to the best American watches, there are some editions that you should know, especially if you are into classic collections. Here is the list:
Hamilton – Khaki Field Mechanical 38
Hamilton is one of the reliable Swiss brands that still carries the American spirit in its watches. As the primary root, Hamilton can't just disregard its Americans in the process of making watch craftsmanship. The one that we would like to mention here is the Khaki Field Mechanical Handwinding Black 38 as one of Hamilton's popular collections.
The Khaki collection is the definition of robustness and reliability. This specific timepiece has a special tribute to its military pre-degree, precisely like their MIL-W-46374 – used by navigators in the U.S. Air Force during the 60s and 70s. Despite carrying a vintage look, the watch exhibits modern technology, especially the H-50 movement that flaunts 80 hours power reserve.
Another highlight from Hamilton is the American Classic PSR Digital Quartz Steel that acquired the title of the very first digital electronic wristwatch in the world. Revealed with a futuristic design, the watch is equipped with durability and accuracy. Hamilton managed to catch the whole attention with this space-age watch design.
Shinola – Runwell 10000024
Shinola watches are also part of American pride in the watchmaking industry. The company designs and assembles the watches in Detroit and the workforce is trained by the Swiss. They also use Swiss movements, such as Selita and Ronda. That said, you can expect good things coming from the company as it is a combination of American production and Swiss movements.
One of the popular watches is the Shinola Runwell 10000024 – the heart of the company. Modestly sized and elegantly designed, the watch highlights a vintage aesthetic with its neat blue dial. This is a tasteful piece that perfectly sits between modern and vintage editions. Powered by quartz, the watch is made in Detroit using Swiss parts that later are branded as Shinola's caliber.
Nodus – Retrospect III Nebula Blue
Dive watch is definitely a must to be on the list and let us present to you the Retrospect III Nebula Blue by Nodus. The watch is designed to perform as reliable diving equipment equipped with essential features. The signature of the watch is its inward-sloping bezel that protects the DLC insert from damage.
Nodus also ensures a highly legible dial for its dive watch with white shark-teeth hour markers against the blue dial and double-dome sapphire glass. It's also been well-applied with Swiss Super-LumiNova® C3 X1 Grade for better legibility in a dark environment. As for the water resistance, the watch can handle 200m of water resistance.
Read also: Waterproof vs. Water Resistant in Watches: A Full Guide
Autodromo – Group B Series 2 Automatic
Looking for a sports collection born with the American spirit? Autodromo is a perfect choice to go, especially the Group B Series 2 Automatic. This watch is a homage edition that pays tribute to the motorsports era between 1982 and 1986. As you can see from the watch, it radiates a strong and bold appearance despite measuring 39mm in diameter – the dial speaks for that charm.
The watch also flaunts a slim profile with only 9mm in thickness, allowing for great comfort on the wrist. As one of the most popular motorsports-inspired timepieces, it is driven by a Miyota 9015 automatic movement that has 24 jewels with mechanical hacking styling.
Pelton – Sector Nickel Silver Limited Edition
The company of Pelton watches is started by Deni Mesanovic. It is based in Detroit and uses a lot of ETA movements for its watches. Started by making high-end ribbon microphones, Deni managed to prove its eligibility to make high-quality watches.
Although using Swiss movements, the company made its own case and bracelet in-house, like the one presented in Nickel Silver Limited Edition.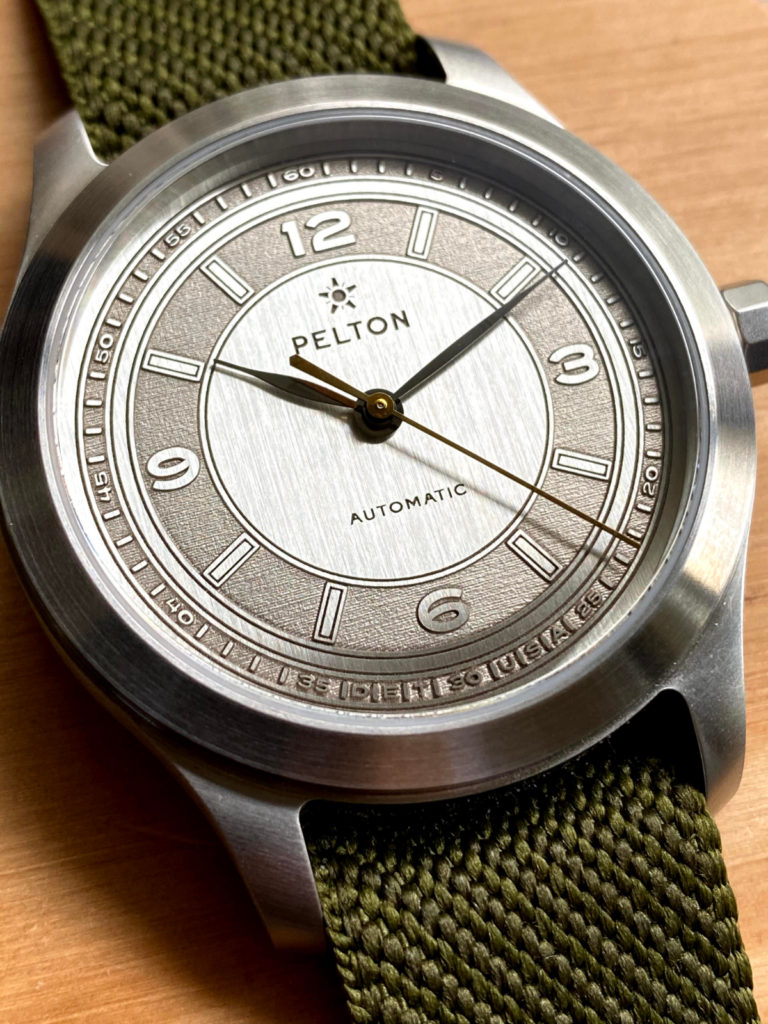 It's more than just a vintage-looking timepiece but also a watch that costs more than you think – it's about $1749. Well, the price also says what it offers. You can enjoy the ETA 2824-2 movements an upgrade of accuracy to +/- 4spd.
In addition to that, the sector dial that sits elegantly on the dial is made in-house out of nickel silver. The result is a highly legible dial that perfectly plays well under different lighting.
Final Verdict
Just because it started later doesn't mean that it's not that good. Watches from America also share a lot of good qualities that you can rely on, especially when it comes to durability. Besides, after reviving the Quartz Crisis, many American watch brands take a different approach to create more valuable watches. So, which brand is your go-to American brand?
You might also like: Top 4 Japanese Watch Brands that Make You Forget Swiss' Craft