Date Published
January 12, 2023
Talking about old American watch brands, the name of Waltham, Lord, Gruen, Elgin, and Bulova might be ones that stood out in the 20th century. That said about how popular their watches were during the era – and it remains loved by many these days. Vintage American watches during that period are a good resemblance to the American watchmaking industry.
They produced high-quality timepieces and competed with Swiss brands. Regardless, each had its own uniqueness to attract attention. These days, vintage American watches remain one of the most sought-after collections in the vintage market.
If you are a vintage hunter, the classic version of American watches definitely should be on your list. In this article, we're going to share some vintage watches from American brands that might pick your interest. Let's dive in!
A Brief about American Vintage Watches
The Swiss watchmaking industry might be top-notch even in the past but some reputations also go to other countries, such as the United States. At the turn of the 20th century, the American watch market started to gain recognition for its high-quality watch craftsmanship.
Some big names also began to embark on making good watches, such as Hamilton, Elgin, and Illinois. They drove a significant increase in the American watch market by assembling timepieces with nice accuracy. The peak was during the establishment of railroad time standards in 1882.
No wonder many timepieces during that period appear as popular vintage American watches today. Well, they carry the heritage as well as being elegantly classic like some we've mentioned below.
Read also: Ball Railroad Watches: The Origin of Railway Standard Time
The Elgin Shockmaster
First on the list is the Elgin Shockmaster with its rectangular watch case. Things in this era were that rectangular was still more popular than the current circle design. As pictured below, this Elgin edition flaunts a classic yet somehow rich charm at the same time.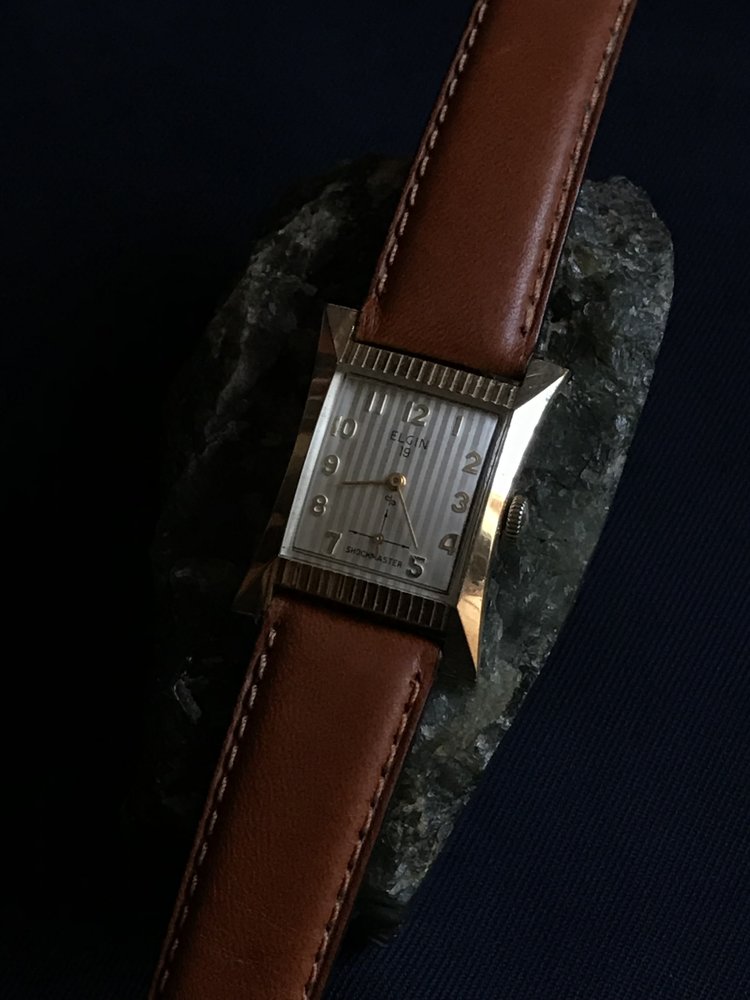 Paired with a leather strap, the vintage aura is further elevated. In addition to that, the watch is equipped with a fancy 10-carat gold-filled bezel and case – that answers why it looks rich. Topping it off, the dial flaunts a stunning textured dial with applied gold Arabic numerals.
Hamilton Sea Guard-1961
While Hamilton is known for its military tribute watches, this one was more to a more dressy one. The Hamilton Sea Guard-1961 appears in such a minimalist design with a neat dial design and fewer elements on it. The Sea Guard line was produced only between 1961-1963, resulting in a limited edition.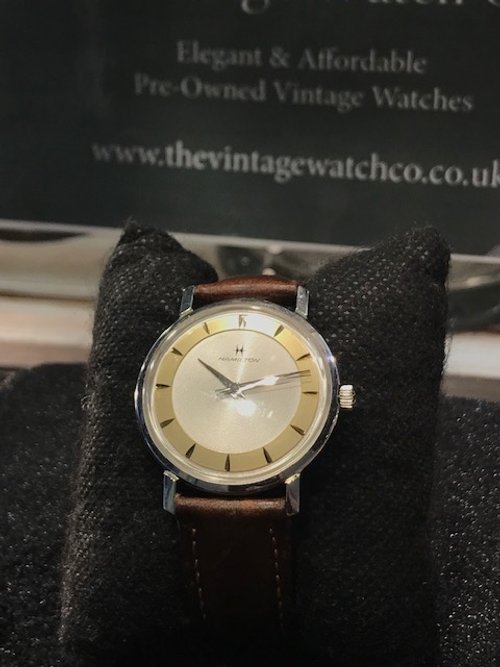 The watch is equipped with gold and silver which is typically not Hamilton. Therefore, this model is considered an iconic and rare collection. At the heart of the watch, it is driven by Hamilton 688 which allows for 47 hours of power reserve and beats at 18000 A/h. This unique model is sold at around £795.
Gruen Dress Watch C1954
Truth be told, most American vintage watches are dress watches that flaunt simplicity and how to minimize things into something appealing. The Gruen C1954 is a dress timepiece with a neat and simple dial design. It uses bars as the hour markers with the most simple hands. The seconds are presented in a small sub-dial.
Similar to the Elgin Shockmaster, the watch is also equipped with a 10-carat gold-filled bezel and case – giving the aura of luxury to the wearer. This model was part of a classic American dress watch produced during the Art Deco era. The characteristics can be seen through its pristine dial and elegant (bubble) case.
Read also: Top 5 Minimalist Watches That are Perfect for Every Outfit
Wittnauer 1958
Let us present to you another iconic American vintage watch that should be on your collection. The Wittnauer 1958 might look like other watches mentioned here – a simple dial that flaunts minimalism and a leather strap to further enhance the vintage. But if you take a closer look, you'll notice something different on the lugs.
The watch comes with winged lugs, something that was so rare and iconic even until these days. Acquiring this watch would definitely be another feeling of winning, especially if you are a vintage watch hunter. Measured 32mm in diameter, the watch exhibits a 10-carat gold-filled bezel.
Waltham Dive Watch
Last but not least might look a little bit different as it flaunts a bold and rugged appearance. The Waltham Diver is a tool watch – a diving timepiece as the name mentioned. It comes with quite a great feature for diving equipment from the bezel and dial legibility.
The watch comes with a thin bezel and a domed watch crystal. It highlights a certain feature of popular dive watches during the '60s, such as the Tropic-style strap. Driven by a manual winding movement assembled in-house by Waltham, the watch comes in a slim profile with 36mm in diameter. It's definitely a slim watch that can easily slip under a cuff.
Conclusion
In the past, the American watch industry might not be as booming as Switzerland, especially during the quartz crisis. Regardless, this industry consists of many reputable today watch brands with high-quality manufacturers. No wonder the industry managed to revive and survive until today.
If you are a fan of heritage, American vintage watches are a great choice to complete your collection. They carry the old story and display how the industry was back then.
You might also like: A Guide to the Best Watches to Collect for Beginner