Date Published
October 14, 2022
Are gold watches tacky? Gold watches are commonly interconnected with the perception of the expensive and elegant taste of the wearer. Some people even eschew gold timepieces due to the stereotypical perception that gold watches are usually adorned by those with gold rings on every finger and chunks of gold chains around their necks.
This stereotypical perception gives gold watches their flashy or tacky name. Thus, when you type in "gold watches" on the internet, the question "are gold watches tacky" often appears as a related query.
We might agree that gold watches attract attention easily due to their "yellow" shining color. However, it doesn't mean that they are too stiff to be mixed and matched. As long as you know how to style them, they won't look tacky or flashy at all.
Why Choose Gold Watches?
The query "are gold watches tacky" on the internet might discourage people from buying a gold watch. Here, let me tell you why you should have a gold watch.
Firstly, to answer the question "are gold watches tacky". I would say that wearing a gold watch could elevate the luxury and elegance of your style. When you style it right, it exudes an air of distinction. Thus, wearing a gold watch is not tacky.
In addition, gold is an incredibly classic color, you don't have to worry about your watch looking "outdated". In fact, they are so timeless, they have never gone out of fashion. Whether to suit current trends or vintage looks, gold watches are always a good choice to make you look stylish all the time.
Read also: Our Top Picks: The 7 Best Full Gold Watches on the Wrist
How to Wear Gold Watch Without Looking Like Trying too Hard
Although trends are dynamic, even for watches, you don't have to worry since gold watches are always in style.
Nevertheless, some people might feel that the "yellow" color might be too flashy for them. So, can you wear a gold watch casually? Or does a gold watch go with everything?
Well, why not? Because of its perceived elegance and timelessness, it is one of the best companions to a stylish outfit. Thus, if you pair your wardrobe, your golden watch will definitely not look tacky at all. Follow the rules below, to look casually elegant with your gold watch.
1. Adjust Your Clothes with Your Golden Watch
Most people suggest that wearing a golden watch with formal outfits is the most ideal approach. It's indeed so, but pairing your gold watches with a textured or patterned suit is also not a bad idea. In any case, it even gives you another variation to go more casual.
Oftentimes, golden watches are also paired closely with a shoe or belt. For something more casual, you can match your suits to your accessories like ties and pocket squares instead of shoes or belts.
2. Color Rules
Next one is color rules. It is advisable not to wear too many colors in your outfit to keep the focus on your gold watch. Moreover, excessive colors will make your outfit look shabby or even tacky.
Earthy and essential tones like light beige or forest green, and dark colors pair well with your gold watch. Avoid flashy colors – just let your gold watch exudes its flashiness. That way it won't look tacky.
3. Jewelry Rules
"Is it ok to wear a gold watch and jewelry in the same hand?" Putting some jewelry on your hands is not a sin. But when wearing a golden watch, limit the number of jewelry that you're wearing.
Don't overkill it by wearing multiple gold rings on the same hand. Another suggestion is to try to use different shades of jewelry with your gold watch for a more varied look.
Read more: A Helpful Guide and Dandy Tips on How to Wear a Watch
Recommendations of Gold Watches for Men that Never Lose Their Shine
Now that you have your "are gold watches tacky" question answered, we're turning to the next chapter. Here are some recommendations of gold watches for men that can be an option for your formal and casual look. This is a list of affordable yet valuable gold watches to accompany your style.
1. Seiko SGF206
Designed in an all-gold design, Seiko SGF206 offers a gold watch with an undoubtedly stand-out look. Starting from the case that is designed in gold color and decorated with a fluted bezel on top.
At its crown, there is a Hardlex crystal that is positioned at 3 o'clock for better comfort. To give a contrast against the champagne-colored background, the dial is equipped with black rectangular markers to improve legibility.
2. Orient '2nd Gen. Bambino Ver. 2' Automatic
Gold watches tend to be glamorous in general, but the glamorous look of Orient '2nd Gen Bambino Ver. 2 is complemented by its leather strap and vintage-inspired white dial. As a gold dress watch, Orient's 2nd Gen. Bambino offers a more classic and vintage look for your outfit.
Paired with a leather strap, the gold case does not take up much space on the watch. As a result, you would be safe from attracting people's attention and able to go more casual with your outfit.
3. Tissot T-Classic Everytime
The new Tissot Everytime watches are simple yet classic Swiss timepieces that can be dressed up or down. With timeless and various designs in different sizes, allowing it to easily suit everyone.
For this feature, the case and bracelet are coated with a Rose Gold PVD coating. Protected with a sapphire crystal, it has a superior anti-scratch screen and hand readability due to its transparency.
4. Citizen AW1552-54P Eco-Drive
Classic lines Citizen Eco-Drive has very simple styling and contemporary details as the key characteristics of the Paradigm collection. This handsome timepiece is featured in gold-tone stainless steel with a champagne dial and date.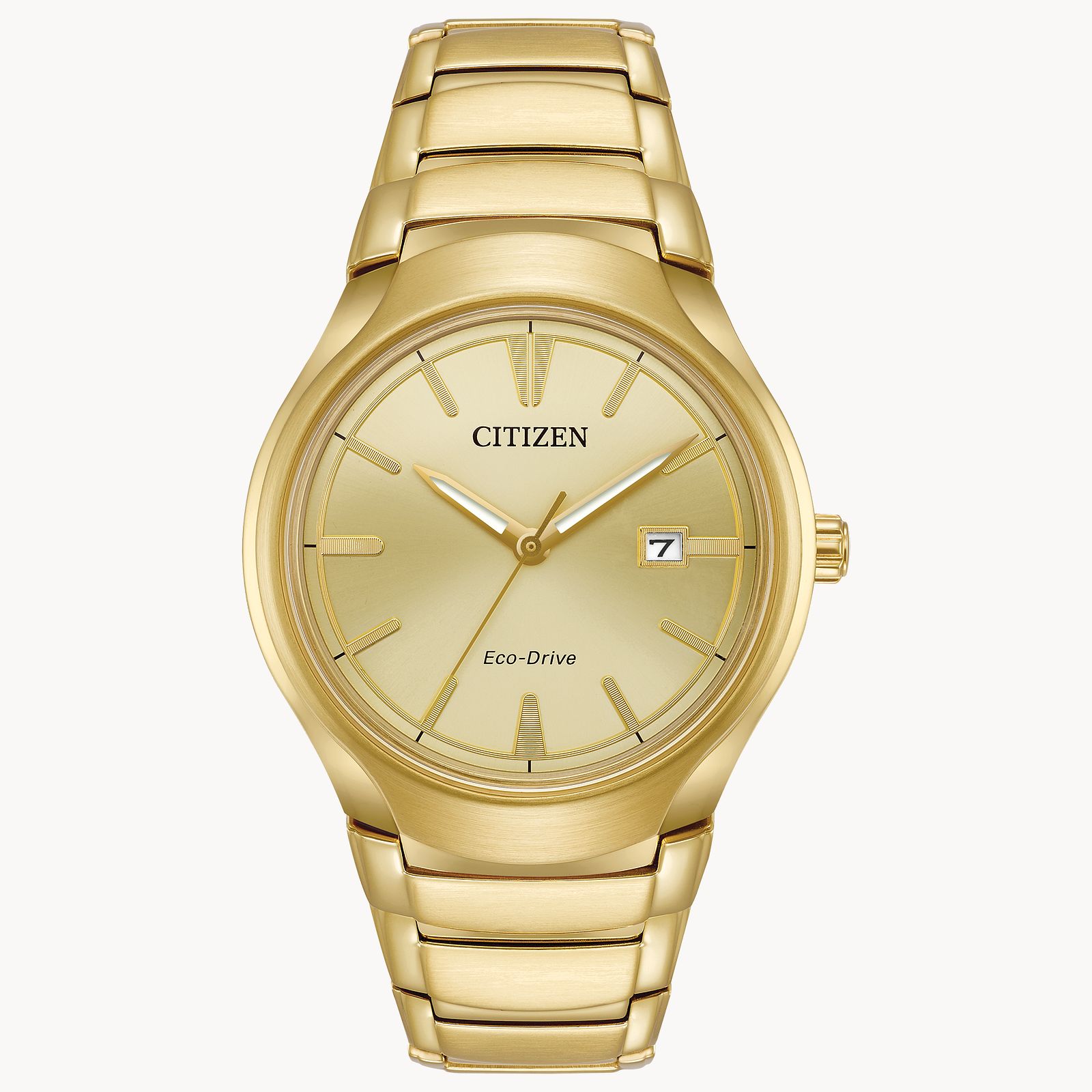 With Caliber number J810 and featuring their Eco-Drive technology, it only needs light – any light to power and runs the watch.
5. Seiko 5 SNKK52 Automatic
Evidently inspired by the iconic Patek Philippe Nautilus, Seiko 5 presented an eye-catching sports watch with a bold gold-toned look. Starting from its case up to the bracelets, all are designed in gold tone.
The watch features a 35.5mm case and is powered with an automatic self-winding movement that displays the day and date at 3 o'clock. With 30m water-resistant protection, it's an undeniably very flashy gold watch with an outstanding look beyond the ordinary.
To Wrap Up: So, Are Gold Watches Tacky?
Well, the question of "are gold watches tacky" is actually a real bear. Why? I bet you would agree if I say that the word "tacky" has a very subjective meaning. Because you and I (or anyone else) might have our own definition of tacky.
The question of "are gold watches tacky?" also might divide people into various thoughts. However, among those opinions, I personally don't think that gold watches are tacky.
As I wear this watch, I like it right away since the color matches my warm skin tones pretty well. It looks very elegant and sophisticated at the same time.
When I paired it with a formal outfit, it also could take my persona to the other level. And more importantly, it's not tacky at all. Instead, I think gold is never out of fashion. Whether used for classic or contemporary looks, this type of watch will never disappoint you because it will always look stylish all the time.
So, what about you? Are gold watches tacky? For further insight into watches tips, recommendations, and reviews, just go straight to our blog. 

You might also like: How to Clean A Gold Watch At Home: A Solid and Gold Plated One