Date Published
June 28, 2022
It will always be an interesting thing among watch enthusiasts to collect a timepiece with a complex and intriguing complication. Among many, the GMT watch still holds space as the most sought-after timepiece. As for me, the more complex, the more fascinating a timepiece is as it presents a high level of craftsmanship. This also applies to other intricate complications, such as moon phase and tourbillion watches.
Yet, the GMT watch has another charm — who doesn't get interested in a watch showing different timezones in one display? A GMT timepiece was born out of necessities since travel between different timezones became possible.
In this article, I'm going to talk more about what a GMT watch is and some recommendations that you would love to have in your collection. Keep on reading to find out the answers.
What is A GMT Watch?
The term GMT might not be foreign to you, it stands for Greenwich Mean Time which has the point "0" on the 24-hour international timezone scale. So, what is a GMT watch? If you have seen a GMT feature on a watch, it mostly has two types of scales which are the 24-hour and 12-hour timescale. It functions to display the time in two different time zones. That way, people who travel in different time zones can identify the time in both places.
Back in the past, the GMT timepiece was born to fulfill the need of pilots. Ever since the invention of planes where people can easily travel across multiple timezones in a day, people in the aviation industry need to keep track of time. As such, Pan Am Airlines asked for help from Rolex to design a new watch that could accomplish the demands.
That was when Rolex introduced the first GMT watch to the world in 1954, the Rolex GMT Master. It immediately gained received much attention and became popular not only in the aviation industry. Rolex also equipped the watch with other features that made almost anyone and everyone can wear it on daily basis.
Best GMT Watches for Traveling Buddies
GMT watch is typically a solution for you who is a watch enthusiast and happens to travel a lot in different time zones. There are basically abundant options for you to choose ranging from luxury and high-end ones to affordable timepieces. Let's check out the list I've curated below.
Luxury GMT Watches for A Taste of Magnificent Watch Wearing
Well, who doesn't get interested in luxury goods? Therefore, I would like to start with ones that cost above $1000 USD that definitely offer prestige to their timepieces.
1. Rolex GMT-Master II
As the legendary forerunner, the Rolex GMT Master definitely deserves to be on my first list. While the original GMT Master was introduced in 1954 that immediately gained popularity, the modern one still holds fame with several upgrades.
The ring bezel features two-tone red and blue while displaying the 24-hour format to track the second timezone. It is driven by the Rolex cal. 3285 automatic movement that everyone knows how reliable it is. Measured 40mm and equipped with 100m of water resistance, this timepiece is the ultimate traveling buddy.
Price: $10,550 USD
2. Seiko Presage Ocean Traveler GMT Champagne
An exciting new titanium GMT edition from Seiko, the Presage Ocean Traveler GMT Champagne Ref. SARF012 is a classy timepiece with attractive specifications for your traveling buddy. The watch does look impressive with a refined and well-finished case.
Despite being an elegant dress watch, Seiko always introduces its best tool timepieces as can be seen in this Ocean Traveler. It is driven by the in-house Seiko caliber 6R64 automatic GMT movement, resulting in a "true" GMT movement with the GMT hand that can be adjusted independently without hacking the second hand.
The second time zone is intentionally placed in the chapter ring instead of an external rotating bezel. It comes in a two-tone 24-hour design that blends well with the cream-textured dial. This is a complete package of the best GMT watches. 
Price: $1,348 USD
3. Grand Seiko SBGM221
A classic and quirky GMT timepiece, Grand Seiko does know how to impress its enthusiasts. The SBGM221 is under Grand Seiko's elegant collection that brings every bit of everything that makes a watch stands out. Instead of following the common design of GMT watches, the 24-hour format is placed on the dial, right under the 12-hour markers.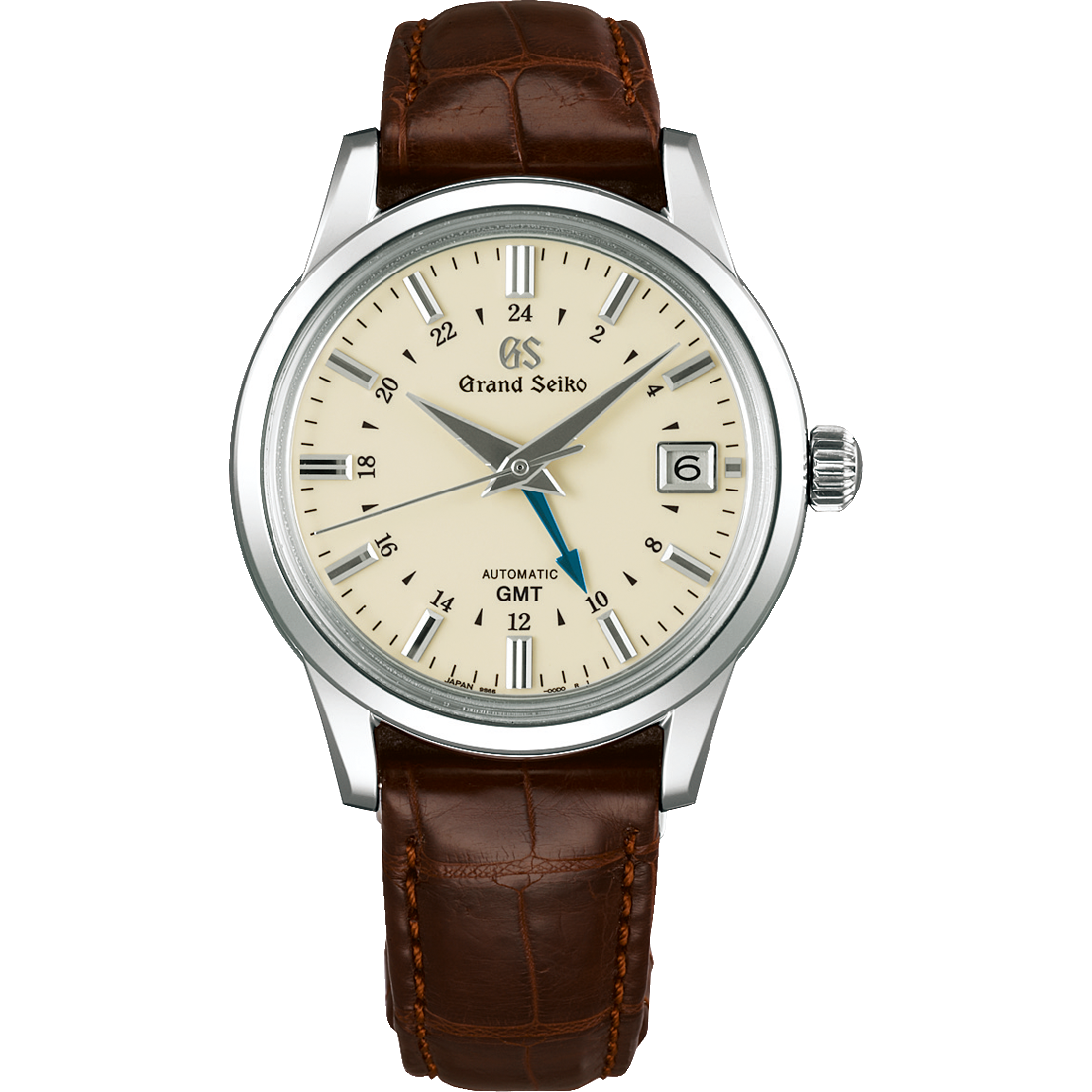 This captivating watch is driven by the evolved Caliber 9S66 movement, giving an advancement for its performance. The watch can save power for up to 3 days along with its latest hairspring technology to achieve high accuracy and stability.
4. Baltic Aquascaphe GMT
I personally would say that Aquascaphe by Baltic is among the best GMT watch you can find in the market today. It's a handsome-looking timepiece with proportional dimensions measuring 39mm in diameter and 12mm in thickness. The design itself is much influenced by midcentury classics, such as Blancpain's Bathyscaphe models.
The watch is powered by the Soprod C125 automatic, giving an added value proposition for being accurate and reliable. The ring bezel is also available in three choices that you can choose to match your style.
Price: €990
5. Hublot Big Bang Unico GMT
Hublot has been known for its hallmark skeletonized dial that exudes robustness. Therefore, the Hublot Big Bang Unico GMT isn't just a utilitarian GMT watch but is also completed with appearance and impressive features. You can set the local time independently with the chronograph-style push-buttons.
Looking at the dial, you can see how the two time zones are displayed at once using a 12-hour scale. Hublot also equips the dial with a day-night ring to give easy time reading in AM/PM format. Behind these incredible features is the Automatic Caliber HUB1251 Unico which runs reliably.
Price: $24,100 USD
Affordable Best GMT Watches Under $1000
Are you trying to buy your first GMT watch? Well, some of you might prefer to look for affordable pieces. Here, I've compiled my favorite affordable GMT timepieces that would do wisely for you.
1. Steinhart Ocean 1 GMT Black/Red
Steinhart collection is a good answer if you are looking for a reliable and affordable GMT watch. The Steinhart Ocean 1 GMT Black/Red is one of its kind that sets to amaze, especially considering it only costs $550 USD. What I personally like about this timepiece is its ability to track three timezones.
It becomes possible thanks to the help of the GMT hand and GMT Bezel. Lies behind the case back is the Swiss Made ETA 2893-2 Elaboré automatic movement that makes the wearer can set GMT hand independently without messing up the main time.
2. Squale 30 ATMOS Walnut GMT Ceramica – 40mm
Paying a tribute to Squale's vintage diver model produced in the 1960s, the 30 ATMOS Walnut GMT Ceramica is the brand's latest GMT model. It is equipped with quickset GMT and date function powered by a Swiss Made ETA 2893-2/Sellita SW330-1 automatic movement.
Not only presenting as a tool watch, but a solid walnut brown color also gives nostalgia with its warm and vintage appearance. The brown ceramic is actually the highlight of the watch as it's pretty challenging to produce ceramic in colors. Yet, it creates a nice-looking affordable GMT watch with its reliable function. You can grab this watch for only $839 USD.
3. Q Timex GMT
The last affordable GMT watch on my list is the Q Timex GMT that I love how it looks. It has an impressive and cool appearance that you would never get bored with. This is a Timex's quartz collection with a retro style that gains a hit among watch enthusiasts. Not only that it is affordable for only $199 USD, the GMT feature definitely adds value for the watch to another level.
The Timex edition would end my recommendation about the best GMT watch. In fact, GMT timepieces are known for their simplistic and ingenious engineering. It helps the wearer to identify the time in different time zones.
Yet, if you want to elevate your experience to a higher level, you can try multiple timezones watches that display all time zones in the world. So, give it a try!