Date Published
July 29, 2022
Having a stainless steel bracelet, rubber band, leather strap, and NATO might be the most common thing to pair with your wristwatches — but the list doesn't stop. So, why don't you try the alternative? I personally would recommend a canvas watch strap to be your go-to watch strap change.
The canvas watch strap is a simple looking yet chic one that takes your watch style to another elevating level. It creates beyond just a casual or formal appearance that makes even more of a statement for your timepiece. There is a lot to explore in wearing the best canvas watch strap.
In this article, I'm going to share what's so interesting about this particular type of strap. So, keep reading to find the best canvas watch strap that matches yours.
Why Canvas Watch Strap is An Ideal Alternative?
The watchmaking industry would never leave you out of options. Even, sometimes, you might feel overwhelmed due to the endless choices for every color, design, and type of watch. This also applies to the strap that comes in diverse types, from stainless steel to rubber.
Here, I'd like to talk more about one of the ideal watch strap alternatives, the canvas watch strap. It may not seem luxury as in some types of stainless steel bracelets, but canvas could be a great pair to show more than just luxury but also a dashing look.
In addition to that, most canvas watch straps are modestly priced considering how durable and sustainable it is. That way, it won't break your bank account for frequently giving a different look to your timepiece every month.
There is a lot to explore in canvas watch strap but overall, this is a comfortable, simple, and breathable strap to be worn throughout hours in daily active wear.
Best Canvas Watch Straps for A Complete Package
Now that you know how a canvas watch strap could be an ideal pair, you definitely need some recommendations for the best canvas watch straps, right? Here, I've curated some of the great ones. Take a look and pick your favorite.
Virginia Black Vintage Canvas
You will never go wrong with black and the same goes for your watch strap color. The Rios Virginia canvas watch strap is specifically made of handpicked canvas material to give the finest quality and comfortability to the wearer. The strap is also individually hand-made to give a unique appearance and patina.
This canvas watch strap is full-stitched with matching stitches for continuity, elevating more personalized looks while paired with your favorite timepiece. The Virginia Black would make a perfect strap for vintage watches, such as Submariner, SeaDweller, Speedmaster, and vintage sports watches.
Hemsut Military Green Canvas Watch Bands Quick Release
A canvas watch strap is also a great pair for military timepieces as in the Hemsut Military Green Canvas Watch Bands Quick Release. Made of premium woven material and genuine leather for the bottom part, this military canvas watch strap is a perfect fit to achieve comfortability and a stylish appearance.
The strap will also be a great fit for either a casual or sporty timepiece. It comes in different sizes and colors which makes it more versatile. There are a total of 7 colors available in 3 sizes 18mm, 20mm, and 22mm. In addition to that, you can easily swap in and out the strap without any tools. This canvas watch strap would definitely add character to any timepiece.
CODFIEDY Canvas Quick Release Watch Straps 22mm
A nice and comfortable watch strap to pair with your favorite timepiece. This canvas watch strap is made of high-quality material, ensuring comfortability for a whole day of wearing and avoiding irritation. Besides, you can get this comfy strap at an affordable price.
Barton Army Green Crafted Canvas
Another military canvas watch strap from Barton that was meticulously made of highly durable canvas and designed for style and strength. This olive green canvas watch strap would give full advantage of its chic appearance to level up the overall look of a timepiece. Brushed in 316L stainless steel, the strap is available in different buckle colors.
Luminous Stitching Canvas Watch Straps – StrapHabit
Do you want to try something unique besides just a canvas watch strap? A little bit of glows on your strap might be what you need as presented in the StrapHabit Luminous Stitching Canvas Watch Straps. Available in two sizes of 20mm and 22mm, the stitch has been applied with luminous that glows in the dark after being exposed to light.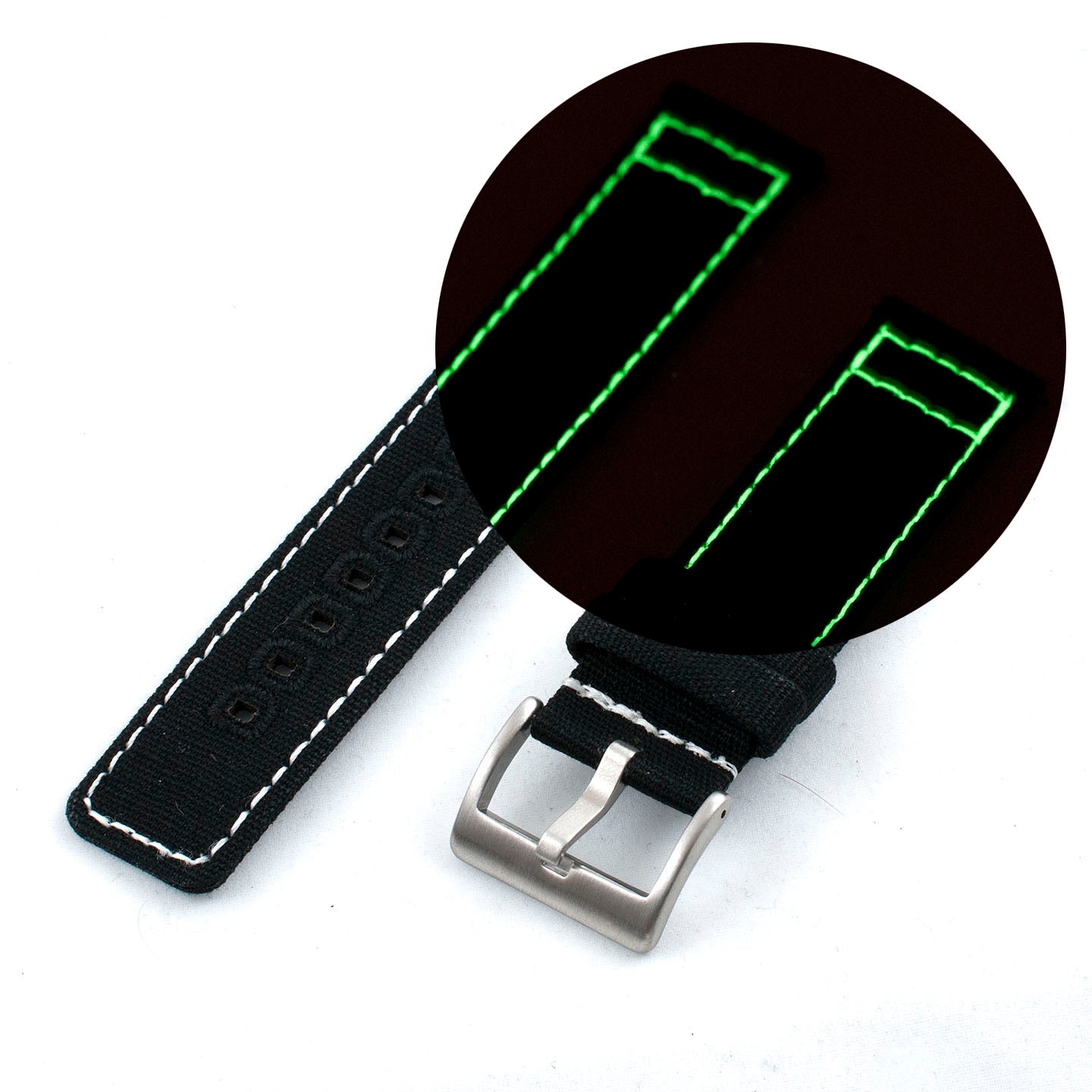 It gives another appealing point to the overall watch when both the dial and strap give a certain amount of glow. This canvas watch strap was made of high-quality canvas, giving an extremely durable strap with a fantastic look. The material might be strong for the first-time wearing but will soften up to form the wearer's wrist in a short time.
Having a watch strap change is a common thing among watch enthusiasts. That way, the wearer can somehow shift between different looks with the same watch but different straps. A canvas watch strap would be a perfect pair for your favorite timepiece. Not to mention the strap's durability and how it nicely buckled on your wrist for almost any occasion.