Date Published
September 25, 2022
Luxury and sophistication of industry would not be valuable enough without their concern to the environment. The same goes for the watchmaking industry which also started to make eco-friendly watches for a better environment. This applies to how a watch brand produces its products, starting from the material used, the process, and how the company manages the waste.
Ec-friendly watches have become a new trend – an alternative that creates art of craftsmanship and takes care of the surrounding. Many eco-friendly watch brands announce themselves as part of the programs by implementing sustainable materials and following ethical production.
Protecting nature and our environment is indeed part of our responsibility. As such, pursuing innovation in how we, humans, can fulfill our needs towards hobbies should be in line with our act of taking care of the surrounding. The eco-friendly watch is one among many other ways we can do both to sustain the environment and fulfill our enthusiasm for timepieces.
In this article, I will explore what makes a watch eco-friendly and a list of the brands known for their sustainable watches. Let's get straight into the discussion.
What are Eco-friendly Watches?
The high points of eco-friendly watches is its materials. Despite the varieties of mechanical, digital, or automatic watches, they consist of similar parts. These parts of a watch are made of various materials, such as stainless steel, gold, platinum, ceramic, titanium, carbon, and diamond. 
Behind the glorious story of watchmaking production, every company gets all of their metal materials heavily from mining activity. If those activities are done improperly – abandonment and not properly remediated – we would just lose our environment which leads to a disaster. 
Therefore, recycled materials are the best option that the watchmaking industry can offer in relation to a sustainable environment. In fact, metals are recyclable, such as aluminum which is 6 times more likely to be recyclable than plastic. Using a recyclable material can reduce the need for mining, processing, and refining source materials.
With that being said, there are certain things we, as watch enthusiasts, can do. Starting from choosing a watch from a brand that follows ethical production. In addition to that, some brands also some certifications that claim their responsibility to the environment. After all, you can always find stylish designs in eco-friendly watches.
What Makes a Watch Eco-friendly?
An easy way to describe what makes a watch eco-friendly is by looking at how a watch brand acts in order to preserve the environment. The right measurement to reduce the negative impacts on the environment is a vital thing to do.
The process starts with how companies source their materials (ethical sourcing)l, choose the materials, manage the production process and waste as well as giving a positive impact on their employees and community.
Recycled Materials
The use of recycled materials is a good sign for a watch brand that follows an ethical guide for production. In this case, recycled metals are the best option. Other examples are ethically sourced leather and ethically sourced FSC-certified wood.
Vegan Leather
Vegan leather starts to get attention as a recommended alternative to animal leather. However, you still need to ensure that the vegan leather is made of PVC, PU, and toxin-free as not all are sustainable. Great options to look for vegan leather are faux leather and cork fabric.
Ethical Manufacture
A company's responsibility also relates to how they collect the materials to make a watch. Ethical sourcing is related to a responsibly manufacturing process, fair labor, and traceable raw materials. In addition to that, the post-production process is still part of the responsibility, such as reducing waste packaging, net zero emissions, and environmental remediation initiatives.
Read also: 7 Best Wooden Watches: A Classic Look of Nature
7 Best Eco-friendly Watch Brands
There are many options of eco-friendly watches you can choose from these watch brands. I've collected some of the best that follow ethical manufacturing processes for better environmental sustainability.
Solios
Offering a timeless minimalist design, Solios is an eco-friendly watch brand that selects its materials carefully – both for its customers and the environment. Samuel Leroux and Alexandre Desabrais are the ones that set the journey to create an impactful effect through their love for a timepiece.
Powered by solar energy hidden under the dial, the watch is available for both men and women. Solios uses recycled materials, such as eco-vegan leather and certified stainless steel. As for the company's responsibility, Solios has actively participated in social activities, such as donating to the Rainforest Trust for forest restorations.
WoodWatch
As the name mentions, most of the WoodWatch design gives a resemblance to woods. It has a simple and minimalist watch design that exudes nature vibes. As an act of contribution to the environment, WoodWatch participates in fighting against climate change. For every piece the company sold, WoodWatch plants 3 trees. Until now, they have planted 12.000 trees.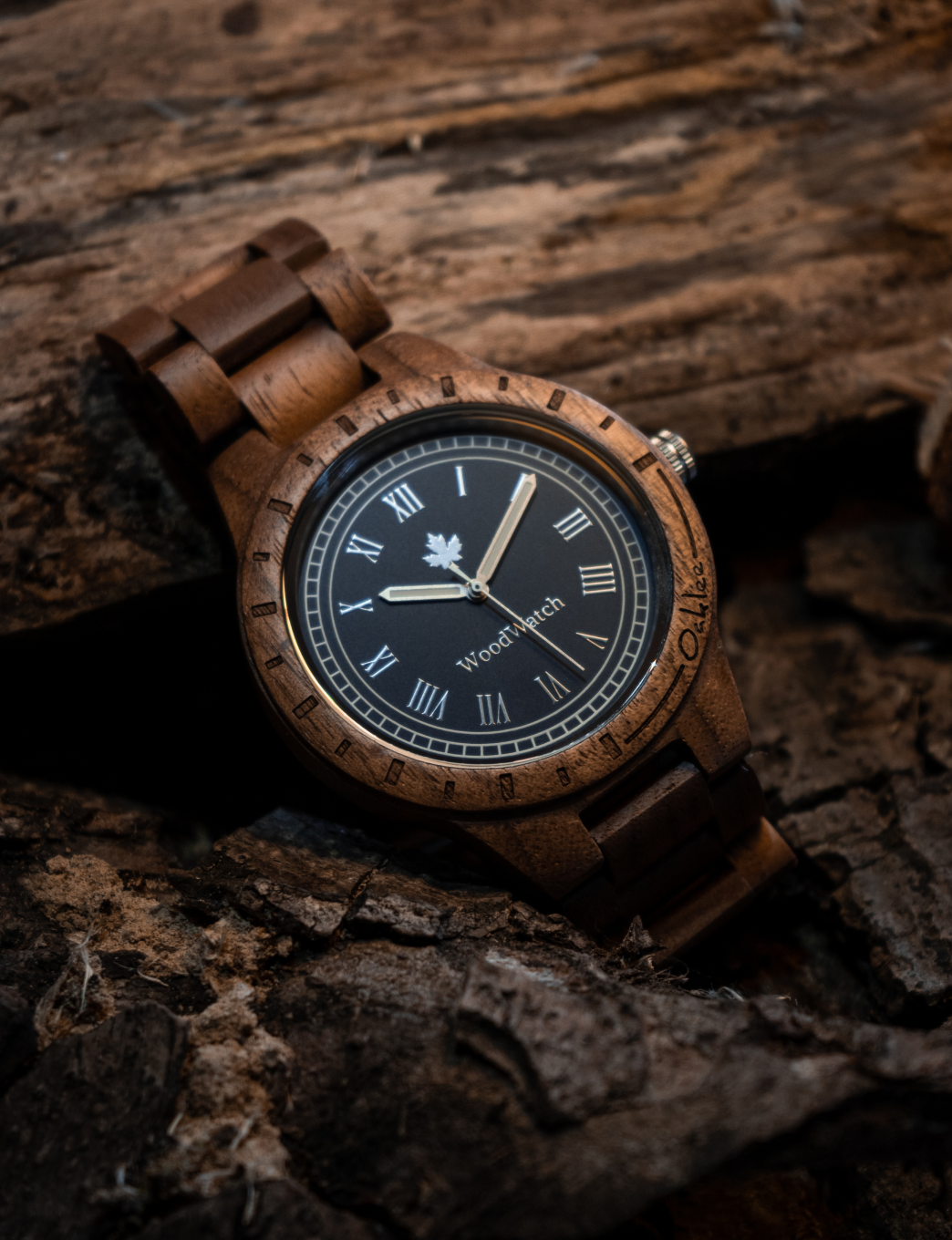 Nordgreen
The next recommendation for eco-friendly watches is the ones from Nordgreen. It doesn't only offer sustainability but also functionality and timeless design. Preserving the environment has been the soul of Nordgreen. The company boldly mentions the idea of not wearing a watch at all for a better environment.
However, Nordgreen appears to give the best alternative by offering eco-friendly watches. The company claims some certifications for its materials, such as the Leather Working Group (LWG), Global Recycling Standard (GRS), Forest Stewardship Council (FSC), and Organic Textile Standard (GOTS).
Original Grain
This eco-friendly watch brand is known for its unique watch design for each product it made. The company sources the materials from wood burls, such as oak beer barrels, tequila barrel wood, and even retired MLB Stadium seats. That makes the watches they produce stand out on their own with an appealing charm.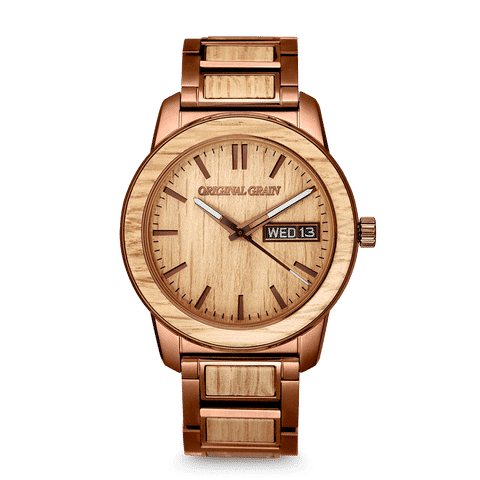 In line with that, the company also uses a 316L Stainless Steel frame that makes a durable steel band. As an act of environmental sustainability, the company builds a partnership with Trees for the Future. For every piece they sold, the company can plant one tree.
2° East
If you are looking for affordable eco-friendly watches then 2°East (read: two degrees east) could be a good option. The company offers a list of durable and beautiful watches made of eco-friendly materials. Their watches are mostly colorful, giving a cheerful look while also being minimalist.
As for the materials, 2°East uses recycled PET bottles (for the NATO strap), stainless steel, leather, and sapphire crystal. Worry not as the company has acquired some certifications to ensure their ethical sourcing and materials. As for the movement, the company sources them from the Miyota movement which also embraces environmental policies.
Mondaine
Eco-friendly watches from Mondaine are available in a range of options for both men and women. It comes with different colors, patterns, and styles to choose from. The company uses grape leather for its eco-vegan leather collections. In addition to that, Mondaine also equips its watches with gold plates, stainless steel, and recycled PET bottles.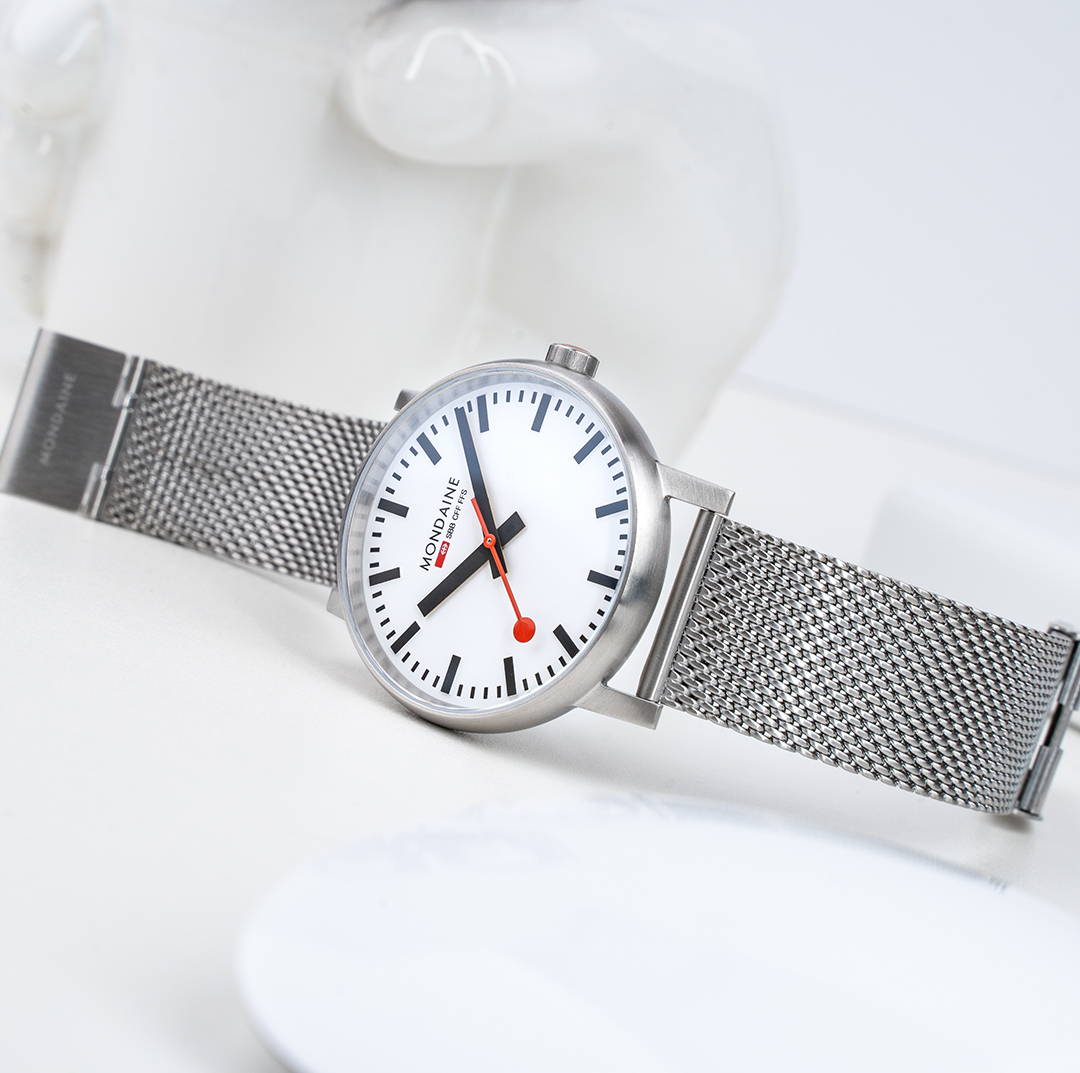 Mondaine also pays much attention to their ethical production. The company uses a solar system that drives almost 80% of the energy used annually. As for the 20%, the company makes use of a hydroelectric power plant. To advance their contribution, the company became fully carbon neutral in 2020 as an effort to reduce carbon emissions.
Read also: Solar vs Quartz Watches: The Pros and Cons You Need to Know
Votch
Votch is another option for colorful eco-friendly watches that supports cruelty-free timepieces. The company drives every part of its activities by making the smallest environmental footprint. The materials used by Votch include Enviroleather, stainless steel, AppleSkin, and Pinatex.
As part of giving back to the environment, the company joins a partnership with C Free which conserve mangroves. As such, for every timepiece it sold, the company is able to plant a mangrove.
Final Thought
After all, eco-friendly watches are better alternatives and options we can have to preserve our environment. We cannot deny that every unethical process of production could lead to a greater disaster. Therefore, a consideration to give more attention to eco-friendly watches can be a good start for everyone.
Besides, we definitely expect eco-friendly watch brands to innovate more on their products by giving a variety of features and designs. In the end, there is always a way to help and be considerate with each other including to the environment around us.
You might also like: 7 Most Dazzling and Powerful Solar Watches for Women