Date Published
January 25, 2023
Who doesn't want to own a luxury timepiece with sophisticated details and performances? But as one says, not all watch enthusiasts can afford timepieces for hundred-thousand bucks. This is where the idea of entry-level watches comes to the rescue. It could be an alternative and a starting point to start collecting luxury watches.
In the meantime, the idea of luxury and affordable prices is vague as it is different for everyone. Buying a timepiece at $1000 might be affordable for some people but it could already be a luxury piece for others. Therefore, it's relative to every individual.
Yet, we might all agree that watches at $5000 and above are definitely luxury timepieces presented with a sophisticated look and performance. However, the watchmaking industry also offers you the most affordable collection from a luxury brand that you call entry-level watches.
It comes with a price that is considered accessible for everyone as a luxury watch. Not only that the wearer gets the feature it offers but also prestige from the brand. We're not here to tell about the cheapy products but to show that there is always a door to wearing a luxury timepiece.
What are Entry-Level Watches?
Some of you might refer to entry-level watches as those with affordable prices while in fact, it's quite incorrect. This term has been widely known to define entry-level collections from luxury brands. It means that the price isn't that affordable. Frankly speaking, it's affordable among the luxury markets.
That said, entry-level watches are timepieces at the lower end of the luxury watch spectrum. In this collection, you can see a luxury timepiece with the most simple, basic, and affordable from a high-end brand. For example, an entry-level watch from Omega might be Omega Seamaster Aquaterra with a simple dial and less complication.
Yet, the watch still costs around $4000 which to most people definitely not affordable, especially to buy a timepiece. Therefore, entry-level watches are an affordable collection in terms of luxury watches. So, they will be a good start for you who want to start a luxury watch collection.
In the end, there isn't any standard definition that categorizes a luxury watch and the entry-level watch. It would heavily depend on each individual. For some people, spending $1000 on timepieces might be too expensive and, thus, is considered a luxury for them. Meanwhile, others might think it is just an affordable timepiece.
Regardless, there are some criteria to set watches that belong to entry-level timepieces. Below are some of them:
Should have luxury elements rather than just basic timepiece, such as the finishing and intricate details (both performance and visual are important)
Should have a sense of luxury and quality (luxury isn't just a term but also a feeling that gives prestige)
Should be more sophisticated and advanced than affordable timepieces
Should cost at minimum $1000 USD (luxury is mostly associated with a high-end price)
Top 5 Picks of Entry-Level Watches to Wear in 2023
Truth be told, there are many entry-level watches available in the market. But to help you filter the options, we have compiled our top picks that you can check in detail below.
TAG Heuer Carrera Ref. WAR201B.FC6291
The first entry-level watch comes from a brand known for making highly precise chronograph sports watches. TAG Heuer Carrera Ref. WAR201B.FC6291 comes in such a basic and simple appearance if compared to other Tag Heuer luxury collections. This a dress watch that presented in a classy elegance with its silver dial and brown leather strap.
Yet, it's not simply just a minimalist dress watch. It is measured 41mm in a brushed stainless steel case with a clean silver dial. The watch hands and indices are also applied with a luminous silver tone. At the heart of the watch is the in-house Calibre 05 movement that you can rely on for its accuracy. It offers 38 hours of power reserve.
Price: $3,100 USD
Rolex Oyster Perpetual 34
Rolex is one of the must-have entry-level watches that should be on your list – well, almost everyone knows about Rolex even people who are not into watches. The Oyster Perpetual 34 is one of the most classy, versatile, and affordable in the Rolex lineup. As can be seen in the picture, the watch appears slim and simple yet luxurious.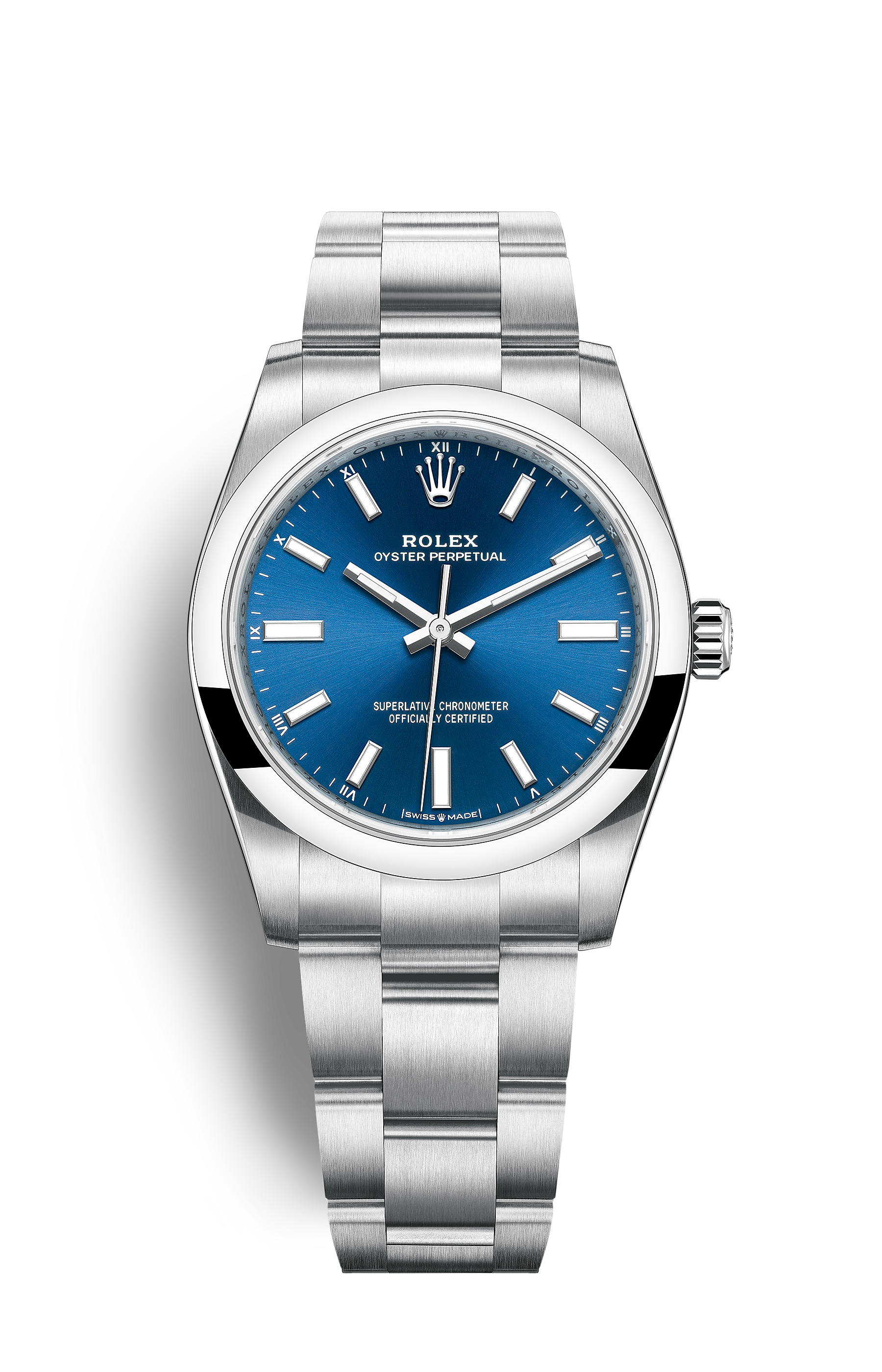 It measures 34mm in diameter which is a nice size to slip under your cuff and wear comfortably on the wrist. Oyster Perpetual is convincingly a time-only watch that managed to grab people's attention with its prestige.
Price: $5,500 USD
Omega De Ville Prestige
The third entry-level watch is Omega De Ville Prestige with its good-looking appearance but enchanting enough. The watch is available in quite many options but the highlight of the watch is what lies behind the case back. It boasts the use of co-axial escapement, designed by the famous horological figure, George Daniels. Measured just 37mm in diameter, the watch is indeed a nice dress watch with a grey-silver dial and leather strap. Powering the watch is the Omega caliber 2500 that you can count on for its reliability and accuracy. With this look, the watch makes a great appearance with formal attire.
Price: $3,350 USD
IWC Pilot's Watch Mark XVIII
IWC watches are known for their classic collection, especially their pilot watches. Many say that the pilot watch collection is the best entry-level watch from IWC. This Pilot's Watch Mark XVIII comes in a black dial accompanied by cream-colored numerals and hands to ensure legibility.
Measured 40mm in diameter, the watch is quite large considering it is designed as a pilot watch. The screw-in crown is also measured big for easy grip and operation. At the heart of the watch is the automatic Caliber 35111 with 42 hours of power reserve.
Price: $6,400 USD
Breitling Colt 41 Automatic
Last but not least, the entry-level watch on the list is Breitling Colt 41 Automatic. The watch comes in a bold and bulky design that speaks for durability and rugged wear. The main reason lies in its chunky steel bezel added with Breitling's signature "rider tabs" for better grip.
Regardless, the bezel action works smoothly and with ease. Measured 41mm in diameter, the watch still makes an ideal presence on the wrist but wouldn't overpower someone with a wrist size under seven inches. Talking about the performance, the watch is driven by ETA-based Breitling 17 movement with a power reserve for up to 40 hours.
Price: $3,620 USD
Final Thought
In the end, some of you might question, why bother to buy an entry-level watch instead of the luxury watch or just buy an affordable timepiece as a starting point? Well, there are some reasons why buy entry-level luxury watches. This watch category could be a good starting point before jumping into luxury markets.
Buying a timepiece that spends tens of thousands of dollars might be quite overwhelming for someone. Therefore, entry-level watches could do it wisely. It can be a good thing to have something last a lifetime with a prestige feeling while wearing the watch – something you can be proud of.