Date Published
May 8, 2022
Like a rose that will always be everyone's favorite, a rose gold watch will always keep its popularity among watch connoisseurs. A pinkish hue mixed with either gold yellow, black enamel, matte blue, or silver will bring an irresistible charm for a timepiece. When it comes to wearability, this type of watch works fine for any occasion or wardrobe, be it in a formal or informal meeting.
Besides, the image of gold has a royal lineage and even added the hue of rose, allowing a watch to exhibit a splendid beauty presence on the wrist. The watch also mostly comes with a warm tone, resulting in a perfect balance for not looking too bright or dull. Almost every watch brand has a space to craft a beautiful piece in a rose gold-tone. See also: Bronze Watches to Own: The Return of Ancient Material
For an easier pick, here we have rounded up some that might be hard for you to ignore. Be aware that a rose gold watch isn't only for women, we've some ready of men's rose gold watches.
Mido Ocean Star Tribute Rose Gold Blue
A charm of classic and aesthetic design from a dive watch, Mido never fails to present its perfect blend of the elegant and impressive collection as introduced in the Ocean Star Tribute Rose Gold Blue. The finishing of this rose gold watch is well-executed with a glossy polish throughout the entire case. A dark blue paired with a rose-gold tone has yielded a nice vintage charm.
The aluminum watch bezel surely pleases the dive watch lovers with the presence of luminous pearl at 12 o'clock along with its easy operation – as smooth as butter. Not to mention, the clean matte-blue dial with great layout proportions that is hard to resist. A great piece of a rose gold watch for women and men either for a diving buddy or a formal occasion.
Seiko 5 Sports "Specialist Style" Rose Gold
As for this moment, you might wonder how a rose gold watch could also be a perfect fit for men. Well, the Seiko 5 Sports "Specialist Style" Rose Gold is the definition of a men's rose gold watch. Its sporty bold look has won the attention and respect of young people. The watch is well-known for its robust built paired with a classic design. Yet, you couldn't just ignore how Seiko 5 took an elegant approach for the overall watch design.
The watch stainless steel case is well-done with a wrap of rose gold finishing. This elegant image is also illustrated through the matte black dial. A simple dial accompanied with a day-date in a single window at the 3 o'clock position. On top of that is the hour markers that are surrounded with rose gold trims and watch hands coated with Seiko's LumiBrite. This watch is a complete beauty pack for a dressy watch.
Seiko Presage "Style60's" Series Open-Heart Rose Gold
A fashion statement of a rose gold watch that defines robustness, tough, and aggressive look. Seiko Presage "Style60's" Series Open-Heart Rose Gold is another piece of men's rose gold watch to be admired. The highlight of the watch is definitely the open-heart feature that shows off the intricate part of the watch.
The watch design incorporates a blend of contemporary earth tone colors, retro, and modern look for a refreshing look. If it can be defined, this watch falls right between a dress watch and a sports watch – a sporty dress watch. This would work well for daily wear.
Rado Captain Cook High-Tech Ceramic Black Rose Gold
A high-tech ceramic monobloc case construction with impressive cutting-edge technology, the Rado Captain Cook High-Tech Ceramic Black Rose Gold brings out an avant-garde men's rose gold watch. The beauty lies on its 120-click coin edge dive bezel coated with the lustrous rose gold polished PVD. A single piece that exhibits luxury and bold wrist presence.
It's quite a big watch with 43mm in diameter and 50mm lug to lug. No wonder that it attracts attention, especially with the visual perfection of an alluring design. What more would you ask for?
Steinhart Ocean 1 Pink Gold Ceramic
When it comes to a rose gold watch, it isn't a complete collection yet without the Steinhart Ocean 1 Pink Gold Ceramic. The tone of pink gold is platted to add a luxurious feeling to the presence of the watch. As a dive watch, the bezel is where it all matters. It is equipped with a 3D ceramic bezel which means that the markers and numbers are protruding while the background is recessed.
As for the watch dial, the markers sit elegantly with matching pink gold surrounding the black dial background. An admirable sight for a luxury timepiece. The watch case is also finished with a full 316L stainless steel and a rose gold plating. To perform at its best performance, this rose gold watch features SuperLuminova luminous for the markers, minute, hour, and second hands.
Hamilton Jazzmaster Thinline Gold Auto
It's quite self-explanatory from the name itself. The 'thinline' explains the idea of slimness for an elegant and minimalist look. This timepiece would be a nice-look dressy watch. As for the 'Gold', Hamilton features an 18 carat rose gold case that strikes a balance of luxury yet simple watch. As such, this timepiece would be a great rose gold watch for women. Well, yes it has a 40mm watch case size but the watch is still a very wearable piece for women.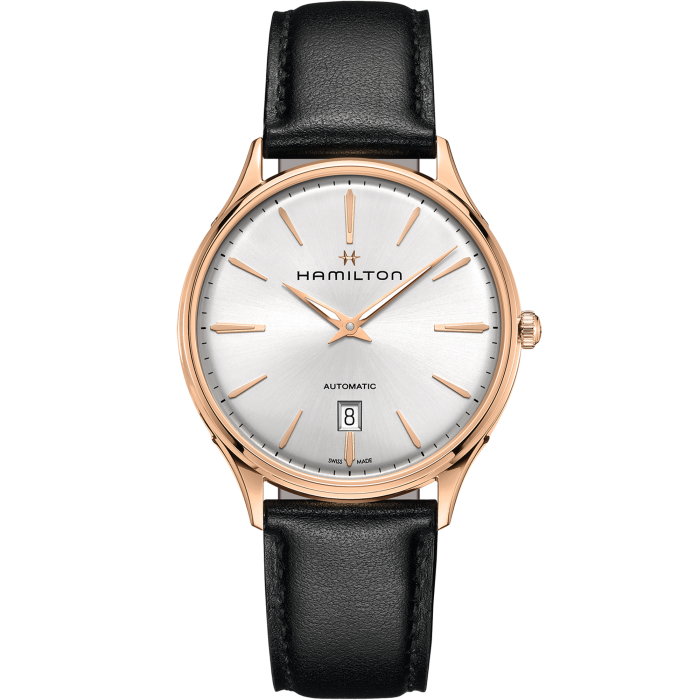 This watch is pretty versatile for any occasion. The watch dial is simple with a silver sunburst dial and sharp dauphine hands. So, it's pretty down to how you perceive this watch: it could be a nice companion for daily wear or an elegant piece for business attire. Whatever it is, this rose gold watch brings out simplicity at its best.
Audemars Piguet Code 11.59 Selfwinding Flying Tourbillon
It screams a high-end watch when talking about the Audemars Piguet Code 11.59 Selfwinding Flying Tourbillon. A beautifully crafted black aventurine enamel dial of the 18-carat pink gold, the watch gives a view of a star-lit sky. Right at the bottom layout on the watch dial, the watch proudly displays a flying tourbillon for an impressive result of watchmaking.
Still, on the watch dial, the hour-markers and hands are also applied with gold. Shortly, the watch face displays an alluring beauty of a high-end timepiece along with its black lacquered inner bezel. As such, the watch makes a good match of a rose gold watch for women or men.
Omega Constellation Quartz 28mm in Sedna™ Gold
No need for a far explanation of the watch's appearance as it clearly displays an enchanting look for a piece of a rose gold watch. Besides that fact, this Omega Constellation Quartz actually highlights its half-moons and "claws" on the case. Only at a glance, it can be said that the watch resembles a jewelry model. The 18K Sedna™ gold is applied to create the watch case and the watch bezel.
Not to mention, an admirable watch bracelet that is also made of the 18K Sedna™ gold. The element of the shooting star pattern also adds to the beauty of the bracelet. Therefore, once it is strapped on your wrist, there is no way that it won't elevate your style.
Get ready with your favorite pick of rose gold watches. A collection of timepieces with a flattering look, an elegant watch for a sharp fashion statement, and a simple watch for daily wear — above all of that, a rose gold watch makes it more enchanting.