Date Published
September 23, 2022
Years of being a watch connoisseur lead me to look for something different, something with a unique approach that might sound crazy and seem unusual. I simply have enough of the casual design of a timepiece although I couldn't be more idealist to have a cubical wristwatch. All I want is a little touch of unusual watches designed with fresh ideas out of the common ones. 
Well, of course, it would be a disaster to spend money on something less worthy than a splendid moon phase or chronograph. But the watchmaking industry does never leave its enthusiasts untangled. In fact, there is a list of unique watches that are definitely worth your money and exude what you call creativity.
I've compiled some unusual watches for those who look for something in the path less explored. These watches definitely should be on your radar and complete your watch collections. Not only that it is unique but it is one way to make your watch wearing stand out on your wrist,
Why Unique Watches?
There isn't any specific reason why you should own at least one unusual watch in your collection. As such, this section is not about asking you to buy one but rather a suggestion. In fact, not everyone loves rarity in terms of designs or functions. But for those who seek a different pleasure in collecting watches then you are in the right place.
There are things to look for and expect in having or wearing unique watches. As it takes a different approach than usual, it gives you a different experience of wearing timepieces. Some watches might have a unique design that might grasp people's attention. Others could have interesting functions that might you continuously wonder how it actually works.
Beautiful decorations and artistic craftsmanship are things that never stop innovating. In addition to that, many unusual watches are made in a limited number that makes the wearer feels exceptional and special to have one on their wrist. In the end, it's up to your preferences of how you enjoy wearing a timepiece.
Read also: Dramatic Yet Astounding: 7 Unique Watches for Women
7 Best Unique Watches for an Appealing Collection
Unique watches might not be everyone's preference as they look unusual. Yet, it doesn't mean that they don't have value as every part in it is a result of a high level of craftsmanship. Below are some unusual watches that I found interesting and appealing to complete your watch collection.
Ludovic Ballouard Upside Down
As the name mentions, the Ludovic Ballouard has an upside-down dial appearance to show its uniqueness. Presented in a playful way, the watch managed to get the attention of the watch community. The concept is actually pretty similar to the Crazy Hours by Franck Muller but the maestro behind this timepiece reconceptualizes how the dial is displayed.
The watch is a special edition produced in limited numbers that features an independent disc for each hour marker. That makes you can spot the current hour by indicating which number is not upside down. This unique watch is spectacular when static and even better when in motion.
Armin Strom Pure Resonance
One of the best unique watches for men on the list is Armin Strom Pure Resonance which presents an interesting display. It shows the mechanical concept of resonance. Against the stainless steel background, the sunburst blue dial is definitely stunning. An interesting dial display is what makes it one of the most sought-after unique watches.
Taking a closer look at the dial, you will notice two stacked balance wheels placed at 8 and 10 o'clock. That is where you spot a resonance mechanical works in action. Talking about the resonance itself, the feature is considered finicky yet the Armin Strong managed to present it successfully.
A. Lange and Söhne Zeitwerk Date
Known for its premium craftsmanship, A. Lange and Söhn is also one watch brand that produces a list of unusual watches. The Zeitwerk Date is one of my favorite unique watches for men that presents a distinctive dial layout. Instead of taking a usual approach, the hour and minute are displayed largely and respectively at the 9 and 3 o'clock positions.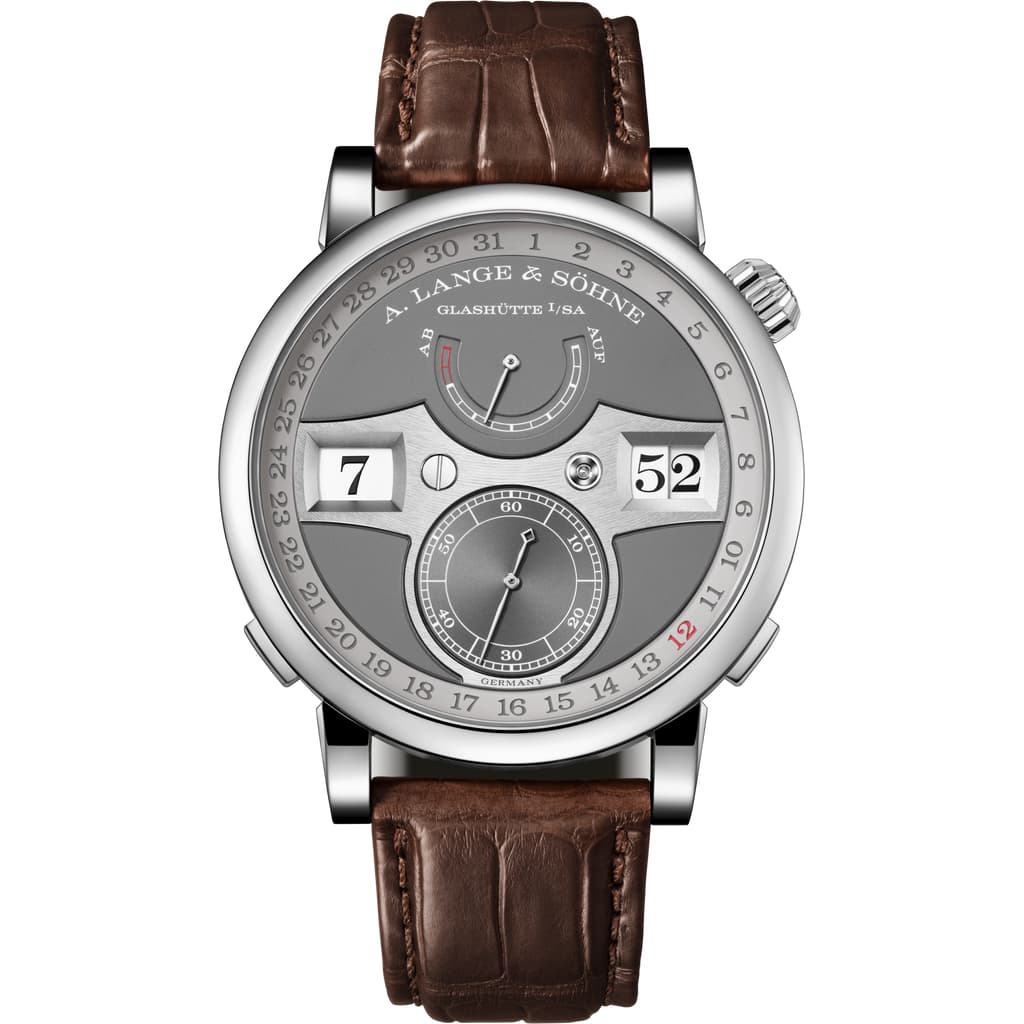 At the 6 o'clock position, there is a sub-dial for the seconds. While at the top, at the 12 o'clock position is the power reserve indicator. The name Zeitwerk Date refers to the unique date wheel displayed on the outer ring. This presentation gives a beautiful dial display with a good finish. At the back of the watch, you can enjoy the intricate work of the decorated L043.8 caliber.
Read also: Artistic Craftsmanship for Delicate Pieces of Unique Watches
Cartier Rotonde de Cartier Skeleton Mysterious Double Tourbillon
Talking about a tourbillon complication itself is already a unique and interesting sight on the watch. Even better, the Rotonde de Cartier Skeleton brings it to another level of sophistication. A tourbillon can be spotted at the 6 o'clock position that seemed to be floating between the caseback and sapphire dial.
The tourbillon will make a round trip every 5 minutes while also rotating on its own axis. Placed at the bottom center of the dial, the tourbillon does make a definite charm among the skeletonized dial. At the heart of the watch is the manual Cartier Caliber 9465 MC that drives the overall function reliably.
Cartier Crash Skeleton
Another interesting unusual watch from Cartier is the Crash Skeleton. As you can see from the picture, it definitely brings a whole new and fresh look to the watch shape. Cartier boldly makes a striking new design through a distorted watch case design. Yet, it managed to grasp people's attention and makes its way into one of the most desirable unique watches.
You might now wonder about the movement and it is put inside a distorted case. In fact, Cartier manufactured its own caliber to fit the unique shape. As a result, the Cartier 9618 MC runs reliably with an appealing finishing and is highly skeletonized.
Ulysse Nardin Freak X
As freak and crazy as it can be, the Ulysse Nardin Freak X really deserves the best title for unusual watches. The dial is where we're going to talk about how unique this timepiece is. It presents a tourbillon in a visible sight shaped from a balance wheel and an escapement. Not only that, but the watch also indicates the current time using the actual movement elements.
Some people might need some time to adjust how to tell the time using this unique watch. It shows hours using the wheel and movement bridge to track the minutes. It can't be denied that the watch does bring a sophisticated design to the watchmaking industry.
Bell & Ross BR 03-92 Red Radar Ceramic
The last unusual watch on the list is the Red Radar Ceramic BR 03-92 by Bell & Ross. The watch might be the only one with a usual dial display and appearance but it features an interesting function that you shouldn't miss. Equipped with a square case design, the watch appears as iconic. However, a cockpit-clock dial design is the main highlight of the watch. 
This dial remakes a scanning motion of a light beam as presented on an onboard radar screen. High contrast on the dial also helps the wearer to indicate time easily. As you can see, it has two miniature screen-printed planes on the dial – the outer disk displays a passenger plane that indicates hours, and the inner disk for a fighter plane indicates minutes.
Final Thought
The watchmaking industry is a wide and large field that not only that it has abundant options of watches but also diverse types of watch enthusiasts. Some might prefer sports watches with luxury price tags and features while others prefer to spend their bucks on interesting pieces.
Fortunately, the world of watchmaking provides almost everything that its fans needs, including the ones who look for unusual watches. Despite their different look, many unique watches also cost in luxury price tag as it needs a higher level of intricacy and craftsmanship. At the end, which one is the most shocking for you?
You might also like: Top 6 Iconic 70s Watches: Reminiscing the Aesthetic Beauty